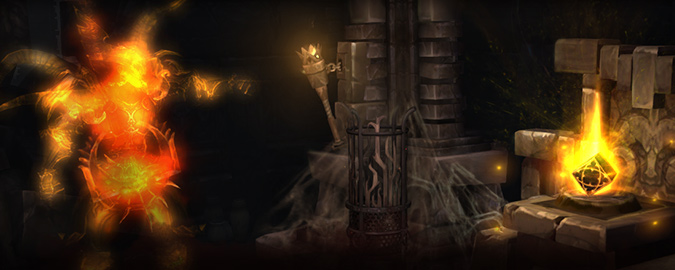 Whether you are starting a new seasonal character, dusting off an older character for some more fun, or just getting around to playing Diablo III for the first time, there is one item introduced in Patch 2.3.0 that you need to have: Kanai's Cube. Read on to find out what this item does, why you should get it, and how to obtain it.
What is Kanai's Cube
In a post dedicated to the topic, Blizzard revealed that Kanai's Cube is, from a lore point of view, a precursor to the famous Diablo II Horadric Cube. The Horadric Cube served a number of purposes, most notably allowing players to combine different items into new ones, upgrade existing items, merge gems and create potions.
Kanai's Cube works similarly, but its focus is on Legendary items. Here is what you can do with this item.
Extracting Legendary Powers. Kanai's Cube lets you destroy a Legendary item in exchange for permanently adding the most potent version of its Legendary Power to your collection. You can use up to 3 Legendary Powers of your choice at any time (1 from an Armor item, 1 from a Weapon, and 1 from Jewelry), changing freely between which ones you want to use. This lets you use Legendary Powers without having to actually equip the items from which they come from.
Reforging Legendary Items. This completely rerolls the item in question, affecting all of its stats. This also has a chance to create an Ancient item.
Upgrading Rare Items to Legendary. This allows you to upgrade an existing Rare item into a Legendary item. In effect, the Legendary item will be a completely new item of the same slot as the Rare item you used.
Converting Set Items. This changes an item from a given set into a different item of the same set.
Removing Level Requirements. Kanai's Cube also allows you to remove the level requirement from an item, allowing it to be equipped at any level.
Converting Gems. Kanai's Cube lets you convert 9 gems of one color into 9 gems of a color of your choice.
Converting Crafting Materials. Much like with converting gems, converting crafting Materials allows you to change the color of crafting materials. It can only be done in a bulk of 100 materials of the same color at a time.
A look at Kanai's Cube, with the Legendary Power collection tab open.
It should be noted that performing the above operations is quite costly in terms of associated materials required. For example, to convert a Set Item, you will need 10 Death's Breath and 10 Forgotten Souls. All the operations you can perform with the Cube, as well as the costs associated with them are listed directly on the Cube.
Looting Your Cube
Kanai's Cube is located in the second level of Sescheron Ruins, called The Elder Sanctum. You can only loot the Cube in Adventure Mode, by teleporting to Sescheron Ruins and exploring until you locate the entrance to the lower level. There, you will eventually find the Cube inside a room, where you must simply click it.
Zoltun Kulle is located in your Town, and until you loot the Cube, he offers you a quest to do so each time you log in. Once you have looted the Cube, Zoltun becomes the NPC you will interact with in order to perform Cube actions (although the Cube, which is located right next to him, can also be interacted with directly).